Thousand Oaks, California
720 N. Moorpark Road
Thousand Oaks, CA 91360
In the Whole Foods Plaza

(805) 379-3901
Open Today Until 6:00 pm
| | |
| --- | --- |
| Monday | 10:00 am - 6:00 pm |
| Tuesday | 10:00 am - 6:00 pm |
| Wednesday | 10:00 am - 6:00 pm |
| Thursday | 10:00 am - 6:00 pm |
| Friday | 10:00 am - 6:00 pm |
| Saturday | 10:00 am - 6:00 pm |
| Sunday | 11:00 am - 5:00 pm |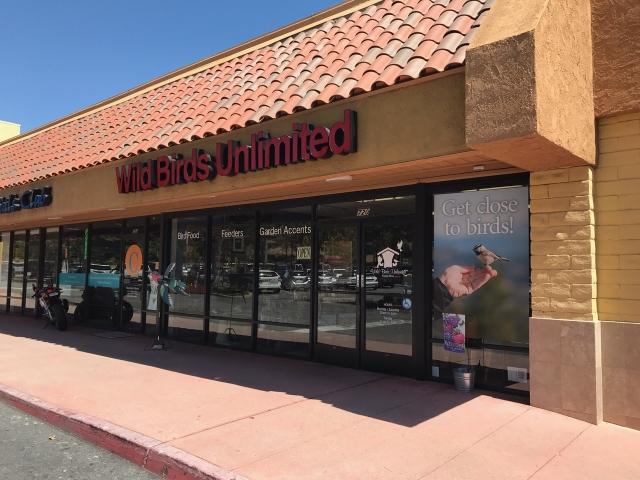 Richard Armerding & Catherine Bourne Franchise Store Owners
View Our Store Site
Phoebes
Black Phoebe
The Black Phoebe is a dapper flycatcher of the western U.S. with a sooty black body and crisp white belly. They sit in the open on low perches to scan for insects, often keeping up a running series of shrill chirps. Look for them near any water source from small streams, to suburbs, all the way to the salt-sprayed rocks and cliffs of the Pacific Ocean.
Cool Facts
Although it mostly eats insects, the Black Phoebe sometimes snatches minnows from the surface of ponds. It may even feed fish to nestlings.
The male Black Phoebe gives the female a tour of potential nest sites, hovering in front of each likely spot for 5 to 10 seconds. But it's the female who makes the final decision and does all the nest construction.
Black Phoebes don't usually venture outside their breeding and wintering areas, but on rare occasions they are seen as far east as Florida. One misplaced bird showed up in Minnesota in the fall.
One pair of Black Phoebes got some unwanted house guests when a pair of House Finches moved into their nest. The finches added 5 eggs to the 6 phoebe eggs already there, and the two females alternated incubation duties for an entire week before both species abandoned the nest.
The oldest Black Phoebe on record was at least 8 years old when it was recaptured and released during banding operations in California.
Say's Phoebe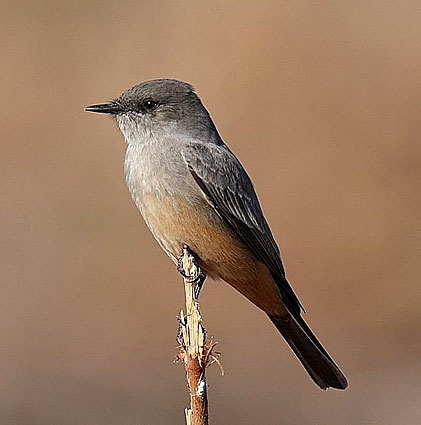 Like other phoebes, the Say's Phoebe is seemingly undaunted by people and often nests on buildings. These open-country birds have cinnamon-washed underparts and a rather gentle expression. They sally from low perches to snatch insects in midair or pounce on them on the ground. Say's Phoebes often pump their tails while perched on a wire, fence post, or low bush.
Cool Facts
Charles Bonaparte, a nephew of Napoleon, named the Say's Phoebe after American naturalist Thomas Say, the first scientist to encounter the bird, at a site near Cañon City, Colorado, in 1819. During the same expedition, Say also collected 10 additional bird species. Despite finding several new bird species in his career, Say is perhaps better known as the "father of American entomology."
Say's Phoebes have been in the U.S. for a long time. Paleontologists discovered Say's Phoebe fossils in Arizona, California, New Mexico, and Texas dating back to about 400,000 years ago (the late Pleistocene).
The Say's Phoebe breeds farther north than any other flycatcher and is seemingly limited only by the lack of nest sites. Its breeding range extends from central Mexico all the way to the arctic tundra. It may be following the Alaska pipeline even farther north, nesting on the pipeline itself.
When a Say's Phoebe finds a good nesting site, it often uses the nest year after year. In central Kansas a Say's Phoebe reused the same nest 5 years in a row.
Say's Phoebes will nest just about anywhere: in mailboxes, on machinery, and even in old nests built by other species. Researchers reported them using nests built by Black and Eastern phoebes, Cliff, Bank, and Barn swallows, and American Robins.
Facts taken from Cornell's All About Birds site: https://www.allaboutbirds.org/
---