Thousand Oaks, California
Richard Armerding & Catherine Bourne
We're passionate about birds and nature. That's why we opened a Wild Birds Unlimited Nature Shop in our community.
Thousand Oaks, California
In the Whole Foods Plaza,
720 N. Moorpark Rd.
Thousand Oaks, CA 91360
Phone: (805) 379-3901
Fax: (805) 319-4056
Email: Send Message
Store Hours:
Mon - Sat: 10:00 am - 6:00 pm
Sun: 11:00 am - 5:00 pm


Fun Facts About Woodpeckers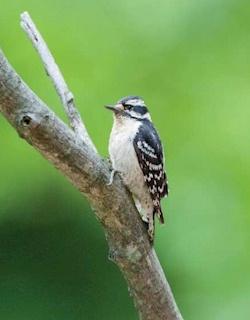 In Ventura County, our most common woodpeckers are the Acorn and Nuttall's Woodpeckers. We may also see Downy and Hairy Woodpeckers, Northern Flickers and, seasonally, Red-Naped Sapcuckers.
Considering the pounding it takes, why doesn't a woodpecker's bill wear down to a ragged nub? Wear down it does, but special cells on the end of the bill are constantly replacing the lost material. This keeps the chisel-pointed bill strong and resilient, while actually allowing it to be sharpened with every blow.
Woodpeckers use their stiff tail feathers for extra support when digging for insects or hollowing out a nest in a tree.
A woodpecker's pointed tail feathers are especially strong and rigid. The tail bone, lower vertebrae and the tail's supporting muscles are also large in comparison to other birds. These modifications allow a woodpecker's tail to serve as a prop that supports their weight as they climb and cling to trees.
Woodpeckers rarely climb down trees, their stiff tail feathers and relatively short legs are much better adapted for climbing upward instead of down.
The contrasting black and white pattern found on the backs of many woodpeckers helps to conceal them from predators. Known as disruptive coloration, this sharp contrast in colors helps to break-up and conceal the shape and outline of a woodpecker as it climbs the side of a tree.
The barbed tip of a woodpecker's tongue is very sensitive to touch and can both detect and impale insect larvae. The tongue is coated with sticky mucus that is secreted by large salivary glands; this coating helps to ensure that its prey does not slip away.
Most woodpeckers' tongues are two to three times longer than their bills.
The base of some woodpeckers' long, retractable tongues reach entirely around the back and top of the skull and end behind the right eye socket.
To prevent small bits of debris from entering their nostrils while excavating trees, woodpeckers have tufts of stiff feathers growing over both nostrils.
Woodpeckers have a third eyelid to help protect their eyes from debris while drilling into trees.
Woodpeckers have a thicker skin than most other birds, an adaptation that has probably evolved from their constant contact with the rough bark of trees.
Woodpeckers are among a very few birds that have zygodactyl feet – which simply means they have two toes pointing forward and two toes pointing backwards. Most birds have an arrangement of three toes forward and one backwards. Having two sets of opposing toes gives them a much better grip on the trees they land on and climb.
While excavating a cavity, a woodpecker's head can strike a tree's surface at speeds up to 13- 15 miles per hour and do it at over 100 strokes per minute. This is equivalent to a person crashing head-first into a tree while running at top speed.
In order for woodpeckers to survive the 10Gs of force that they can sustain with every blow against a tree, they have the following special adaptations:

The bones between the beak and the skull are joined by a flexible cartilage which cushions the shock of each blow.
The skull is made of spongy, air-filled bone and the brain is packed very tightly into the brain cavity with little room to rattle around during impacts.
The shear force from each blow is directed not to the brain, but downward towards very strong neck muscles that act as shock absorbers.
A woodpecker's head and body are always in a perfectly straight alignment when hitting a tree to avoid breaking its neck.

Woodpeckers' skulls and bills are incredibly strong and yet lightweight, due in part to the reinforcement provided by a meshwork of bony support struts. The portion of the skull nearest the tip of the bill is also bolstered by extra layers of tough calcification.
Woodpeckers may find their hidden prey by sound and/or smell.

As the woodpecker strikes the tree, hollow sounds may echo off of the tunnels (galleries) of wood-boring insects (like thumping a watermelon).
When feeding on wood, grubs make an audible sound that could be heard by a woodpecker.
Woodpeckers have a better sense of smell than most birds and may be able to detect the strong odor of the formic acid that ants, bark beetles and termites excrete (smells like Sweet Tarts).

During cold winter weather, tree-foraging birds such as woodpeckers do not increase their body fat as much as ground-foraging birds, probably due to the fact that they roost in cavities overnight and that snowfall rarely hampers their ability to find food in trees as compared with birds searching for it on the ground.
Most species of woodpeckers are born completely naked, unlike many other birds that are completely covered with soft down feathers when they hatch.
The Acorn Woodpecker has a very complicated social system. Family groups hold territories, and young woodpeckers stay with their parents for several years and help the parents raise more young. Several different individuals of each sex may breed within one family, with up to seven breeding males and three breeding females in one group.
All members of an Acorn Woodpecker group spend large amounts of time storing acorns. Acorns typically are stored in holes drilled into a single tree, called a granary tree. One granary tree may have up to 50,000 holes in it, each of which is filled with an acorn in autumn.
Although Nuttall's Woodpeckers are nearly confined to oak woodlands, they do not eat acorns.
To help distinguish the difference between a Hairy and a Downy Woodpecker visiting your feeders, look for the Hairy's chisel-like bill which is much longer than the Downy, which often equals the width of the rest of the head. The Downy's head is twice as wide as its very short bill.
| | |
| --- | --- |
| | |
| Downy Woodpecker | Hairy Woodpecker |
Beetle larvae and ants make up the largest portions of the Hairy Woodpecker's natural diet.
While not a true sapsucker, the Hairy Woodpecker seems to enjoy a sweet drink on occasion as they have been reported to drink from sapsucker wells, hummingbird feeders and even sugar cane plants.
The smallest North American woodpecker is the Downy Woodpecker at 6 inches in length.
The Downy Woodpecker was first formally described by the Swedish biologist, Carolus Linnaeus in 1766.
In winter, small birds tend to lose heat faster than larger birds due to the ratio of surface area to weight. As a result, Downy Woodpeckers in Alaska are about 12% larger than they are in Florida.
The feather pattern on the back of head of Downy Woodpeckers is unique to every bird. Downies may use them to recognize other individual downies.
Scientific tests have determined that Downy Woodpeckers do actually use the presence or absence of the red patch on the back of other downies head to determine whether they are male of female.
Male Downy Woodpeckers are dominate over female downies and select the best feeding sites for their own use and defend them against the females.
Female Downy Woodpeckers have slightly longer tails than do the males. This may be explained by the fact that they spend more time foraging on vertical surfaces, such as tree trunks, and thus use their tail as a brace more often than their male counterparts, which spend most of their time foraging on smaller horizontal branches.
Downy Woodpeckers have been recorded to eat at least 44 different kinds of insects, including beetles, ants, weevils, aphids and the eggs of grasshopper, katydids and crickets.
During the winter, Downy Woodpeckers have to peck deeper into trees to find insects and favor trees with rough bark since they hold more over-wintering insects than smooth-barked trees.
Downy Woodpeckers typically excavate new roosting cavities during the autumn months over a period of three to seven days.
The average life-span of a Downy Woodpecker is two to five years, although some may live up to 12 years old.
In order to increase their security and feeding efficiency, Downy Woodpeckers will often flock and forage together with chickadees, titmice, nuthatches and Hairy Woodpeckers. They rely on the other birds for early warning of predators by recognizing their alarm calls.
When threatened by predators, Downy Woodpeckers will freeze motionless against the trunk of a tree and will not return to normal activities for up to ten minutes.
Studies have shown that Downy Woodpeckers with access to bird feeders are in better nutritional condition than their peers. This probably results in higher rates of winter survival, especially in the submissive females.
The Pileated Woodpecker is the second largest North American woodpecker at 19 inches in length; hopefully the Ivory-billed is still the largest at over 20 inches.
Sapsuckers can drill as many as 50 holes per hour into trees. After these holes fill up with sap, the sapsucker returns and soaks up the sap with its brushy-tipped tongue. They also feed on the many insects that are attracted to the sweet sap.
Northern Flickers spend about 75% of their time foraging on the ground in search of ants.
Northern Flickers will often roost at night on the side of a tree or structure instead of inside a nesting cavity.
Red-bellied Woodpeckers will eat fruits, insects, an occasional frog or lizard and they have even been observed eating the eggs of chickens.
If you want to provide good habitat for woodpeckers, consider leaving the dead tree snags in and around your yard. One study has shown that a Downy Woodpecker needs at least four to five snags per acre to meet its needs for nesting and foraging.
Bird banding longevity records for woodpeckers recaptured in the wild:

Acorn - 17 years, 3 months
Downy - 11 years, 11 months
Hairy - 15 years, 11 months
Nuttall's - 8 years, 9 months
Pileated - 12 years, 11 months
Red-headed - 9 years, 11 months
Red-bellied - 12 years, 1 month
Northern Flicker - 9 years, 2 months